Pilot Information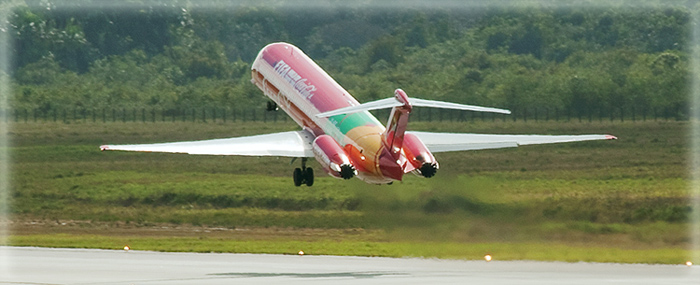 The information regarding the aerodrome and facilities is published in the Suriname Aeronautical Information Publication. A Flight Information Office is provided for use by aircrew where information applicable to flights is available. Additional information can be obtained on request from ATC. Any changes to the actual conditions of the airport, required facilities and services must be reported and amended as necessary
In the headings below references are made in brackets to corresponding parts of AIP Suriname. When changes need to be made in the Aerodrome Manual, AIS must be informed about the changes for updating of the AIP Suriname.
It is of utmost importance that information in the Aerodrome Manual and in the AIP Suriname is the same.
a
Name of the Aerodrome:
Johan Adolf Pengel International Airport (SMJP/PBM)
b
Location:
30 nm south of the capital of Paramaribo
c
Aerodrome reference point:
Aerodrome reference code:
05° 27′ 05" N / 55º 12′ 03" W (WGS-84)
4E
d
Aerodrome elevation:
18 m (59 Ft) (05° 27′ 10" N / 55º 11′ 15" W (WGS-84)
e
Elevation threshold RWY 11:
Elevation threshold RWY 29:
Highest elevation touchdown zone RWY 11:
17.1 m (56Ft)
17.5 m (57Ft)
17.1 m (56Ft)
f
Aerodrome reference temperature:
Magnetic variation:
35° C.
17º W
g
Aerodrome beacon details Coordinates:
Location:Color of light:
Interval:
05° 27′ 5" N / 55º 12′ 11" W
Approx. 230 m on the right hand site of the centre of threshold runway 11.
Flashing white / green
Every 10 seconds
h
Aerodrome Operator:
Airport Management Ltd.
(N.V. Luchthavenbeheer)

Headquarters

:
Wayambostraat 5
Paramaribo, Suriname
E-mail: 1)  info (@) japi-airport.com
Phone numbers
Airport Management Ltd.
 Phone (+597)
 Availability  (local time)
General Director
 401348
 7.30 a.m. – 3.30 p.m.
Airport Manager
 325200
 8.00 a.m. – 4.00 p.m.
Airport Operations
 325221
Mobile: 08650495
 24 hours
Aerodrome Dimensions and Related Information
General Information:            
Runway
 RWY 11
 RWY 29
True bearing
090º
270º
Designation number
 11
29
Length
3480 m
3480 m
Width
45 m
45 m
Shoulders
7.5 m each side
7.5 m each side
Displaced Threshold
Not Applicable
Not Applicable
Runway Slope
Longitudinal
1.2%
1.2%
Traverse
1%
1%
Surface type
PCN84/F/B/W/T Asphalt
PCN84/F/B/W/T Asphalt
Type of runway
Precision Approach CAT I
Non – Precision Approach (VOR/DME)

Planning a NON-Scheduled flight to Suriname:
Please follow the following steps to ensure a smooth arrangement of your flight;
Landing permission from the Civil Aviation Department (CAD) is REQUIRED for all "Non-Scheduled" flights (e.g. Private- / Charter- / Military flights, etc…) into SMJP/PBM!
Please refer here to the form to obtain your landing permit from the Civil Aviation Department (CAD): Landing Permit Application Form. (Choose: Pengel Airport – SMJP)

Permit requests can be obtained from Monday to Friday (holidays excluded!) from 10:00Z – 18:00Z and take around 2-3 business days to process (Please plan accordingly)!
Choose a ground handler and make prior handling arrangements (you can either send this form directly to the ground handler for further arrangements or send it yourself). You will be required to use a ground handler upon commencement of flight.
All International Flights to and from Suriname require a Ground Handling Agent:
Surair Ground Services (SGS)
Tel: +597 325227
Email: surair.operations (@) flyslm.com
Surair Ground Services
Transport Ltd.
Tel: +597 851-3213
Email:
– gen.transport (@) yahoo.com /
– info (@) transportlimited.com
Transport Ltd.
For Airport rates and charges please click below: